9' 6" Pro Wave
We met with a few shapers on Maui and Vancouver Island so we could create ultimate Wave boards. The trend is for shorter wider boards in the waves as well, so it's a perfect fit at 32" wide. Hand shaped 18oz EPS core with Bi-Axle Carbon, them vacuum bagged and sanded for the lightest, strongest, "Brush Carbon Wave Board". Stable and fast bottom turns are what the Wave is all about. Higher nose rocker at 6.75" will let you ride head-high waves; we're sure you'll love it.
Package includes: 1 Piece Full Carbon Paddle.
MSRP:
$1,999
Specs:
Size: 9'6" x 32" x 4" (Swallow Tail)
Construction: 18kg EPVS Core with Balsa stringer, 3K Carbon, Bamboo & Bi-Axle Glass
Total Capacity: Up to 225 lbs
Board Weight: 23.15 lbs
BOARD BAG
All around 3/4 zip bag for easy access and storage with an additional handle on the bag.
ROCKER
the WAVE has a 6.75" nose rocker, with squash tail for quick turning to catch the bigger waves.
FCS NOSE ANCHOR
the WAVE has a nose anchor to fasten a GoPro, film your rides.
3K CARBON STANDING ZONE
stiffer, more impact resistent & reactive.
VACUUM MOLDED
"Hand shaped" epoxy sandwich vacuum construction (ESVC).
KAHUNA DECK PAD
textured deck pad for a soft and comfy grip.
TRI-FIN
set up with futures, two G5 fiberglass honeycomb thrusters and 7" center fin.
2PC CARBON PADDLE
2-piece Carbon Paddle.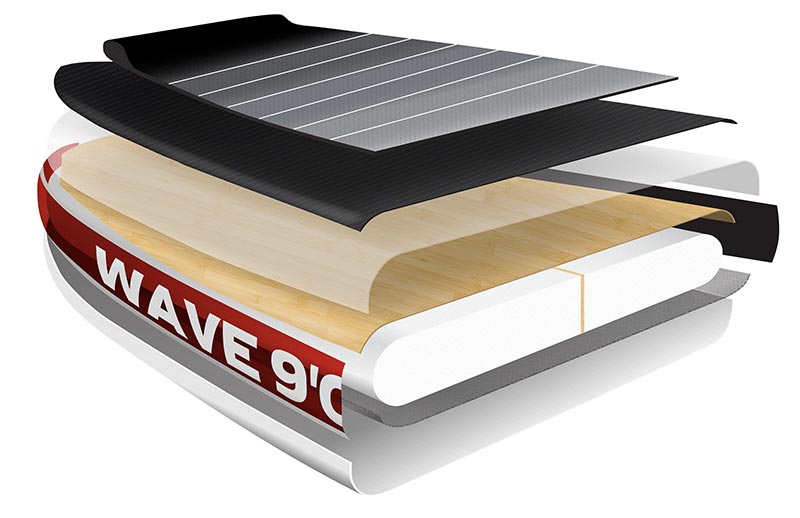 PRO series is a "hand laid" board based on a 18kg foam blank with a balsa stringer. The lay-up starts with a full 3k carbon wrap, then a bamboo veneer is added to the top and bottom of the blank for added strength. The board then receives a full 6oz glass wrap and an additional 3k carbon top layer for even more strength in the standing zone. Once all the layers are set up by hand, the board is vacuum bagged. The vacuum bag process insures consistent curing and evenly distributing the resins throughout the overlapping layers. The PRO Series boards have a unique one of a kind look and feel, resulting from the ultimate bamboo/carbon construction. These boards are built to charge the waves!!