10'6" Epic Zen Bamboo
Yoga's next level - SUP Bliss
Designed for the yoga enthusiast, with the aid of Yogi's, the ZEN is hand shaped using our EPIC Epoxy Sandwich Vacuum Construction (ESVC) featuring a bamboo sandwich to keep the board light and strong. The bottom rocker is a traditional all round shape allowing the board to glide extremely well, and by using a "chinned rail" we were able to create an extremely flat deck - ideal for SUP yoga. The deck pad has our KAHUNA grip with a built in paddle holder, and is designed with three drishti points to help you focus and stay balanced.
MSRP: $1,799
Package Includes: Board, Fin, Coil Leash, Bag & 2-piece Full Carbon Paddle.
Specs:
10'6" x 33" x 5"
Construction: Epoxy Sandwich
Total Capacity: Up to 250 lbs
Board Weight: 27.55 lbs
DECK TIE-DOWNS
for those long trek's.
BOARD BAG
All around 3/4 zip bag for easy access and storage with an additional handle on the bag.
ADDITIONAL GLASS
in the Standing Zone That Wraps Over the Rail, Light, Stiff, Strong.
BAMBOO VENEER
top deck to rail edges.
KAHUNA DECK PAD
textured deck pad for a soft and comfy grip.
FIN THUMBSCREW
no screwdriver needed.
DRISHTI SYMBOL
Three drishti focal points.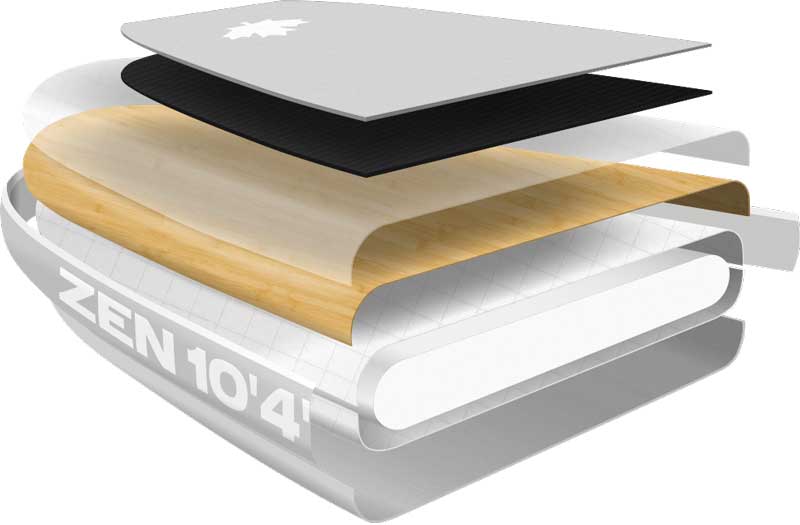 We believe paddle boarding on glassy water is a ZEN experience that will leave you in total calmness after each session. Designed for the yoga enthusiast, we lowered the rocker to give the board the longest level deck on the market and added chinned rails for stability when the board is stationary. We use our ESVC and Bamboo Construction to keep the board strong and light. The ZEN is also very easy to paddle which makes it a perfect all round board for the fitness enthusiast.