10'6″ Epic Classic Woody
Old School Cosmetic – Retro Theme
The Kahuna CLASSIC WOODY is a tribute to the popular wood long board era of the 60's. Each WOODY is constructed with a true veneer cosmetic using our Epoxy Sandwich Vacuum Construction (ESVC) process. We start with a high density foam blank and wrap it with two full layers of fiberglass cloth. The bamboo veneer is sandwiched between the two upper layers before we add a third layer to the standing zone and wrap it around the rails for added strength. The WOODY's traditional shape is 5" thick and 10' 6" long with plenty of floatation for paddling the lake or riding waves.
Package includes: Board, Bag, Fin, Leash, 2-Piece Carbon Paddle
$1,799
Specs:
Size: 10'6" x 33" x 5"
Construction: Epoxy Sandwich
Total Capacity: Up to 230 lbs
Weight: 30 lbs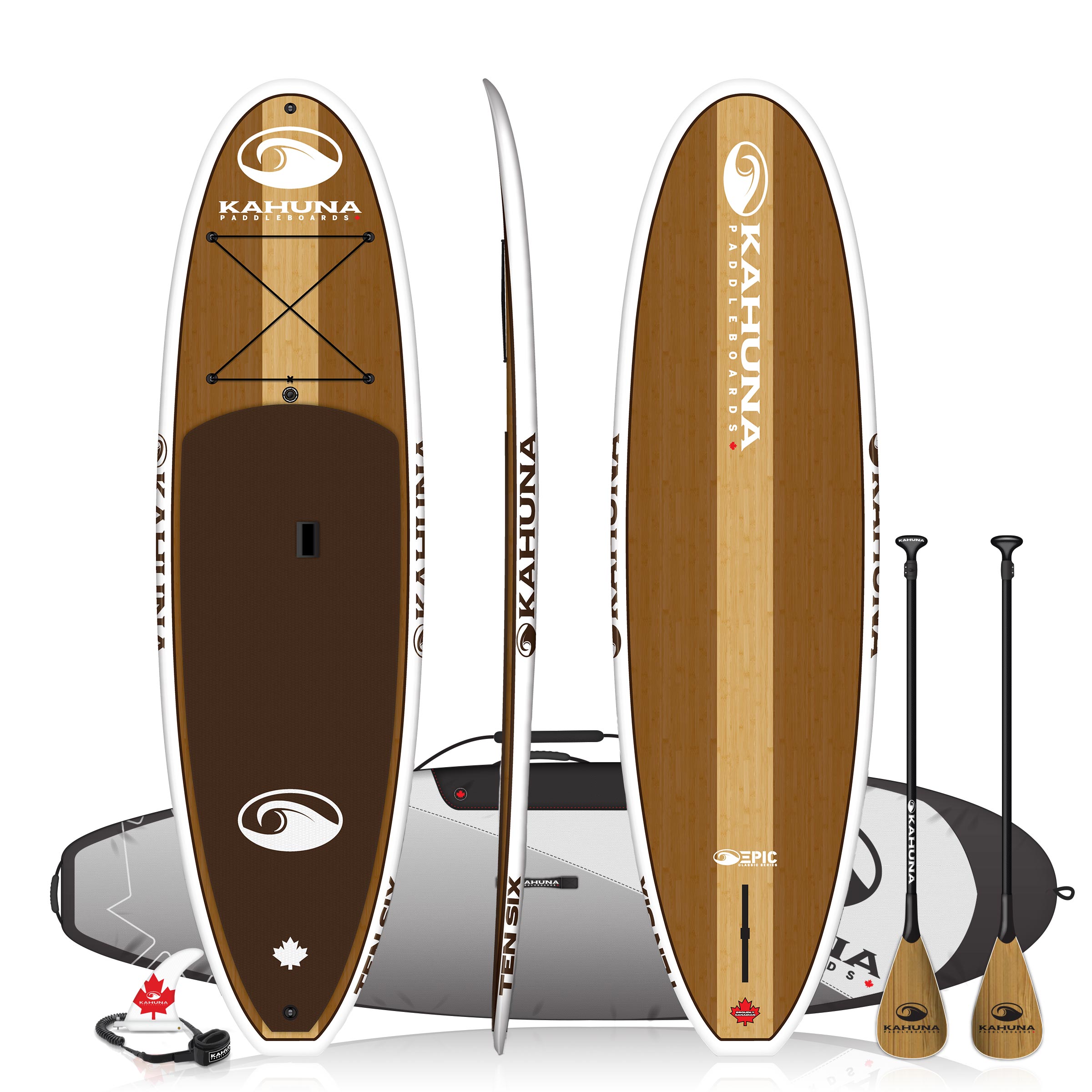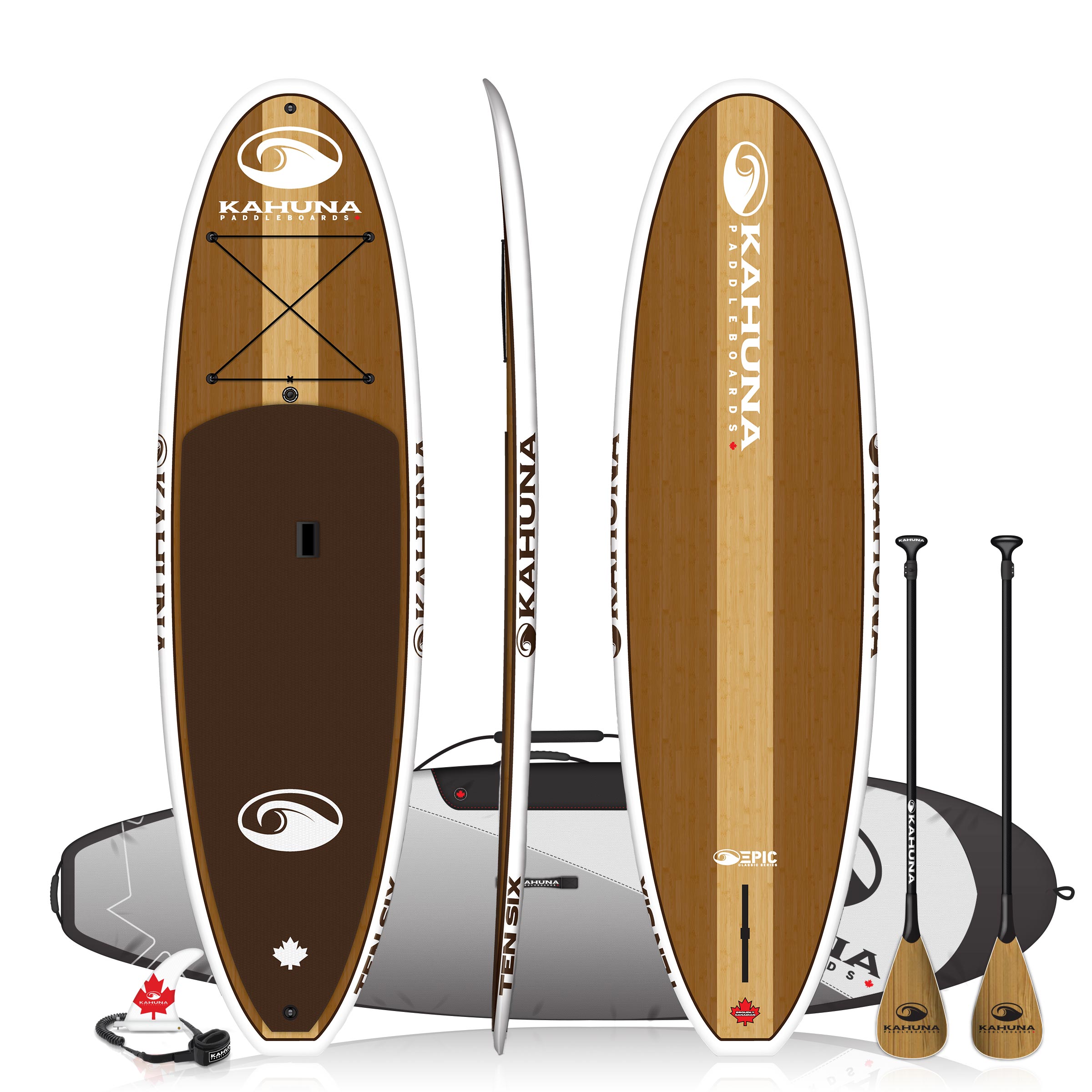 ADDITIONAL GLASS For added strength
BOARD BAG All around 3/4 zip bag
KAHUNA DECK PAD Textured deck pad for a soft and comfy grip
ANCHOR TIE For securing an anchor or weight
VACUUM MOLDED Epoxy sandwich vacuum construction (ESVC)
FIN THUMBSCREW No screwdriver needed
BAMBOO VENEER Beautiful finish and added strength
DECK TIE-DOWNS For securing cargo
2pc CARBON/BAMBOO PADDLE Super light and adjustable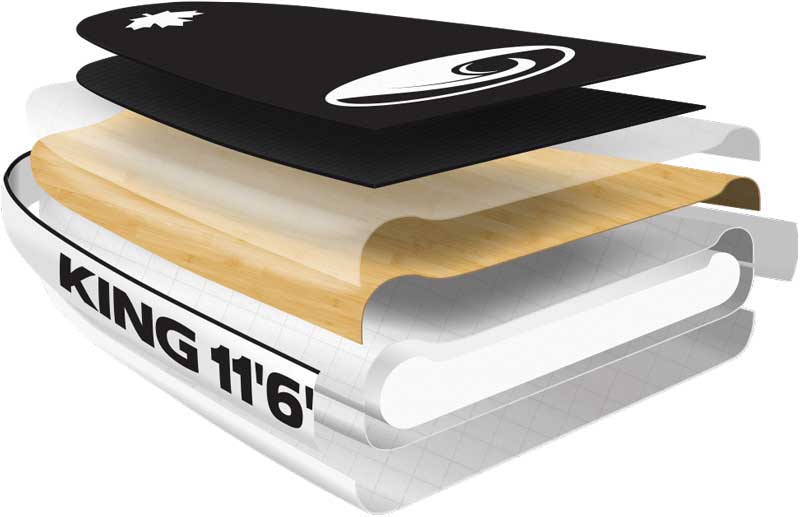 All KAHUNA EPIC SERIES models are hand shaped and use an Epoxy Sandwich Vacuum Construction (ESVC). The foam blank is wrapped with 2 full layers of fiberglass cloth on the top & bottom. A 3rd layer is added to the top of the board and is sandwiched with either fiberglass cloth or bamboo veneer.
For overall strength and durability, the standing zone has an additional top layer of fiberglass cloth wrapping over the deck extending to the underside of the board. The board is then vacuum bagged for perfect consistency producing a strong epoxy sandwich.