11'1″ Epic Kuda
Fast & Maneuverable
The very popular Epic KUDA was added to our line-up in 2015. With a similar design to the KING, the KUDA is a little shorter and narrower at 31ヤ making the KUDA more maneuverable. Although a little smaller than the KING, you can still pack loads of gear on the front and back tie-downs for those long trips. The drop down deck aids in feel, with a "Ridge Line" like the KING on the bow to help with overall stiffness.
Package Includes: Board, Bag, Fin, Leash, 2 Piece Carbon Paddle
$1,999
Specs:
Size: 11'1" x 31" x 5.5"
Construction: Epoxy Sandwich
Total Capacity: Up to 250 lbs
Weight: 31 lbs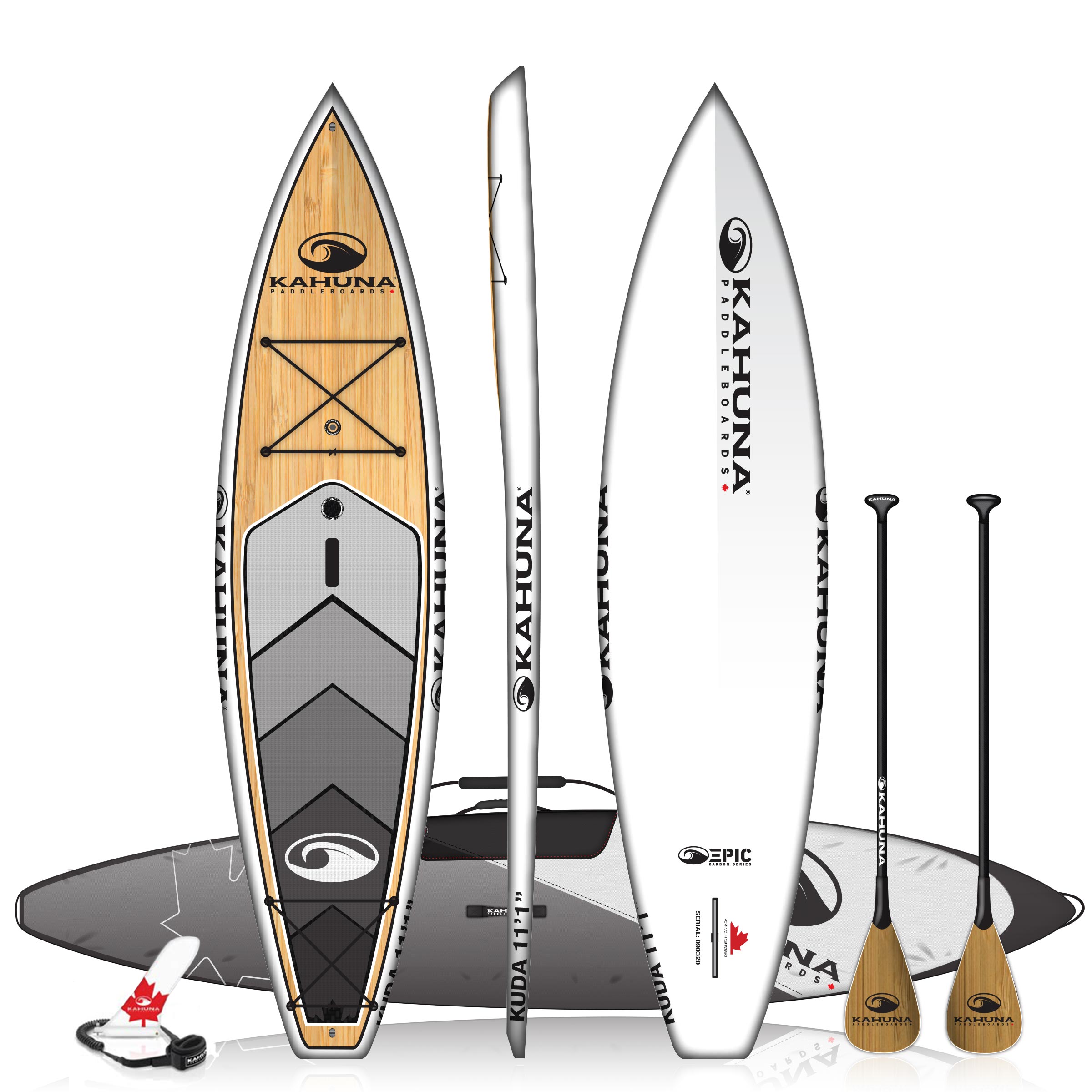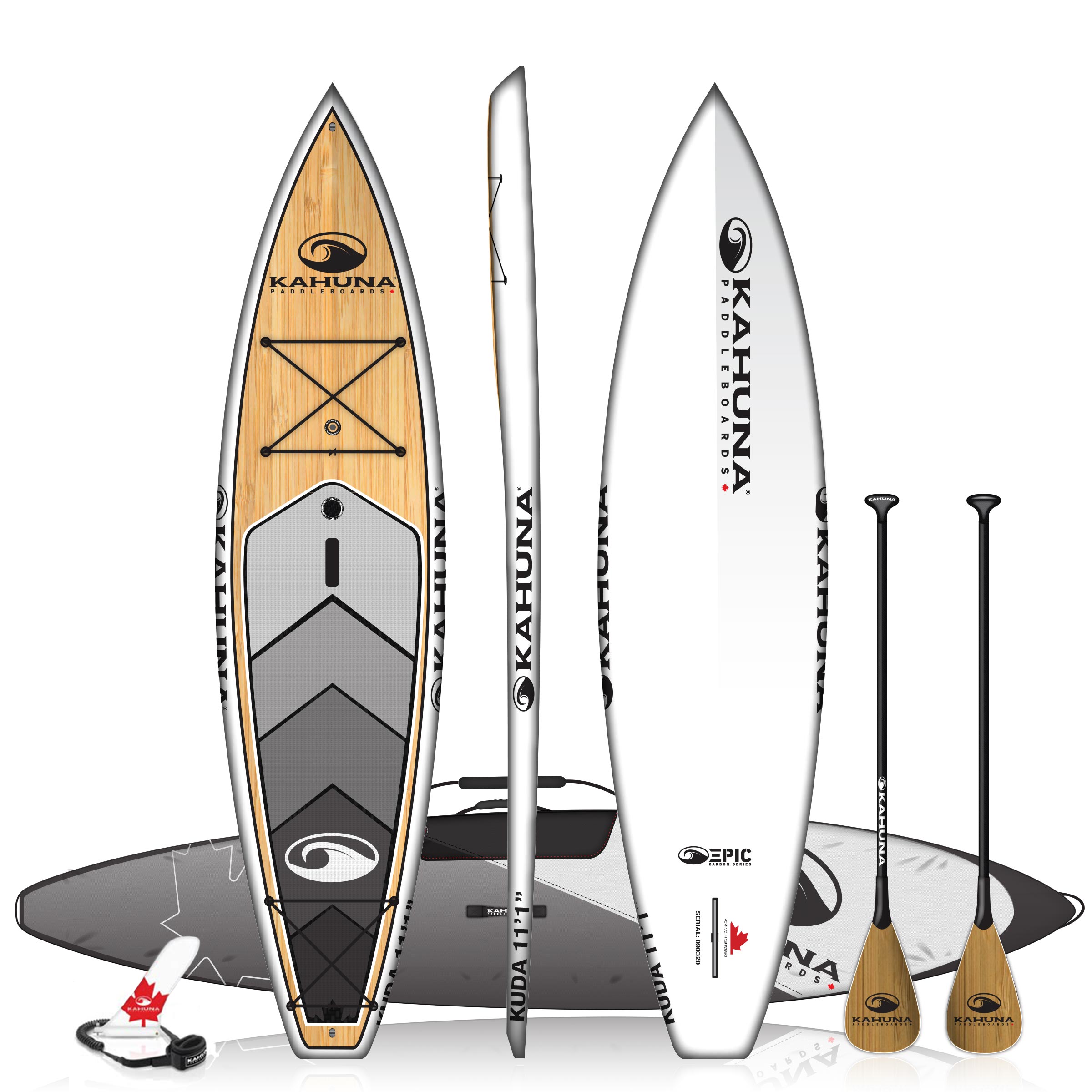 11" FIN Fibreglass race fin
RIDGED DECK LINE Increases bow strength and helps shed water
DROP DECK Reduces board volume for added feel
3K CARBON STANDING ZONE Strong, stiff and more impact resistent
COFFIN BOARD BAG Coffin style board bag for protection and easy storage
KAHUNA DECK PAD Textured deck pad for a soft and comfy grip
VACUUM MOLDED Epoxy sandwich vacuum construction (ESVC)
FIN THUMBSCREW No screwdriver needed
BAMBOO VENEER Beautiful finish and added strength
DECK TIE-DOWNS For securing cargo
2pc CARBON/BAMBOO PADDLE Super light and adjustable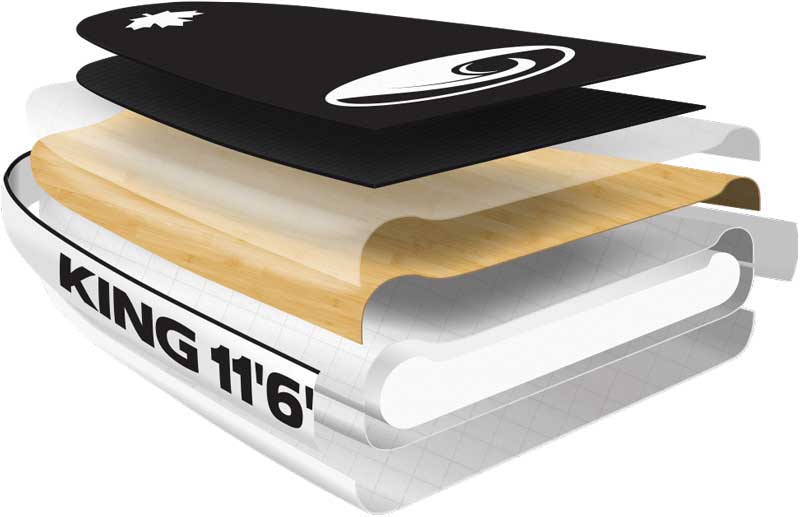 All KAHUNA EPIC SERIES models are hand shaped and use an Epoxy Sandwich Vacuum Construction (ESVC). The foam blank is wrapped with 2 full layers of fiberglass cloth on the top & bottom. A 3rd layer is added to the top of the board and is sandwiched with either fiberglass cloth or bamboo veneer.
For overall strength and durability, the standing zone has an additional top layer of fiberglass cloth wrapping over the deck extending to the underside of the board. The board is then vacuum bagged for perfect consistency producing a strong epoxy sandwich.