9'6" Elaho II
Appropriately named after the Elaho River just north of Squamish, BC the ELAHO II has been completely redesigned for 2022!
The ELAHO II is ready for whatever you throw at it. With an aggressive 8″ nose rocker, this badass iSUP (measuring at 9'6″ long x 36″ wide x 6″ thick) was designed to be extremely manoeuvrable and stable.
The new tri-fin set-up will allow you to turn on a dime, ride over the shallowest water, or challenge some Class 3 rapids. With two permanent thruster fins and a centre US fin box, you can install a 6″ fin for river riding or a 9″ fin for flat water – both are included in the package.
The new and improved ELAHO II design features a 30″ raised back along either side of the deck pad (matching the tail kick) for added grip and pressure when riding white water. The coil leash and five grab handles (or as our ambassadors call them "holy shit handles") will give you the confidence to crush it knowing that there are lots of places to grab on and stay with the board should you take a dip in the water. In addition to the double cross nose tie-downs, we also added a rear tie-down area to keep all your gear secure throughout your voyage.
The ELAHO II comes with our new Kahuna iSUP pump from Bravo – a stronger pump with better volume so that you can inflate your board and hit the water in no time flat! We also improved the paddle with a carbon shaft and fibreglass blade that is ready to take whatever abuse is thrown at it should you hit the river bottom.
From calm waters to rivers to rapids – no matter how you play on the water, this iSUP rebel is ready to conquer wherever the water takes you.
Package includes: Wheelie Bag, High Velocity Dual Action Pump, Coil Leash, 3-Piece Paddle with Carbon/Fibreglass Blade (new for 2022), Fins, and Repair Kit.
$1,499
| | | | |
| --- | --- | --- | --- |
| Weight | up to 150 lbs | 150-225 lbs | 225 lbs + |
| Recommended PSI | 12 PSI | 14 PSI | 16 PSI |
| | | | |
| --- | --- | --- | --- |
| Weight | up to 150 lbs | | |
| Recommended PSI | 12 PSI | | |
Specs:
Size: 9'6" x 36" x 5"
Construction: RDS (Reinforced Dropdown Stitch)
Total Capacity: Up to 200 lbs
Weight: 25 lbs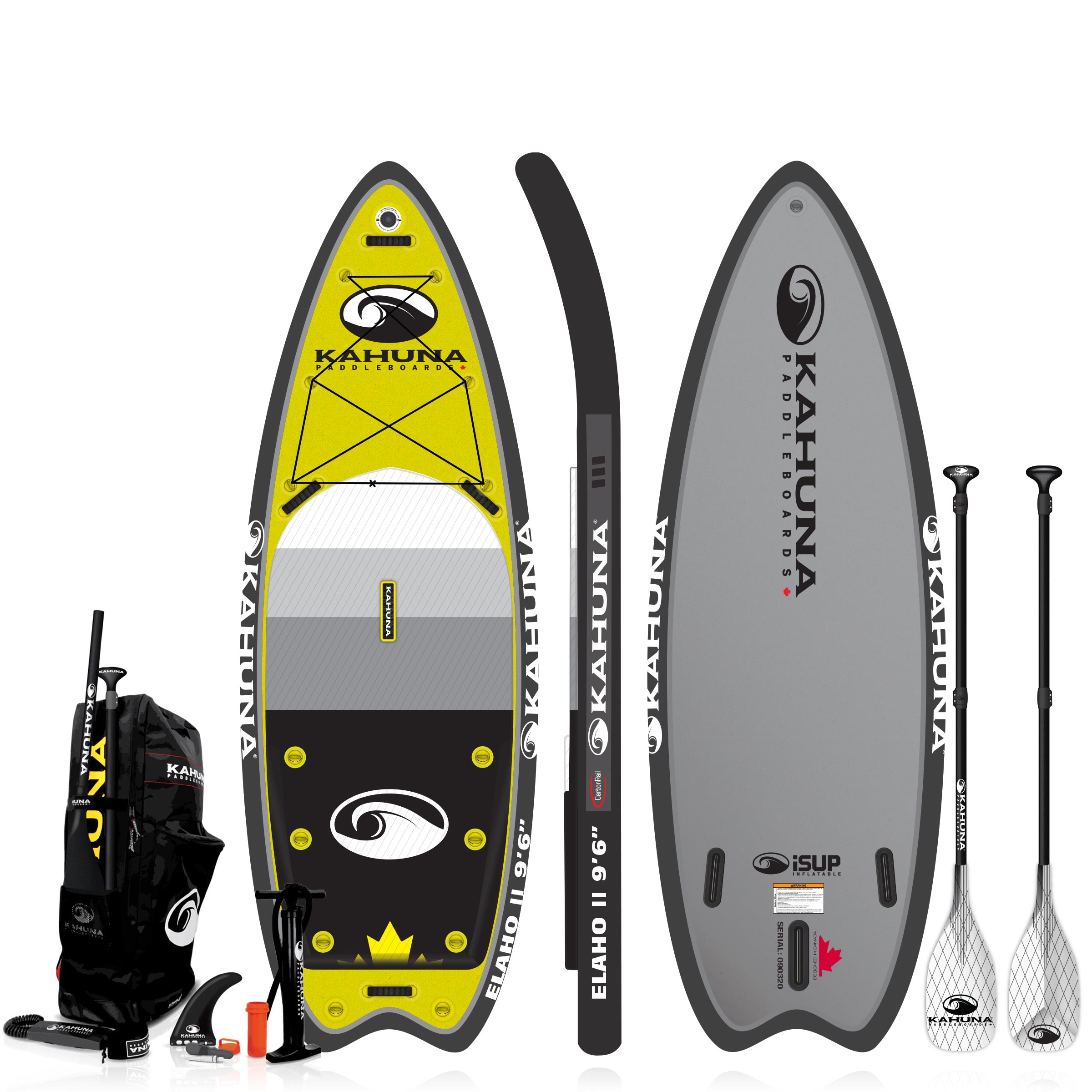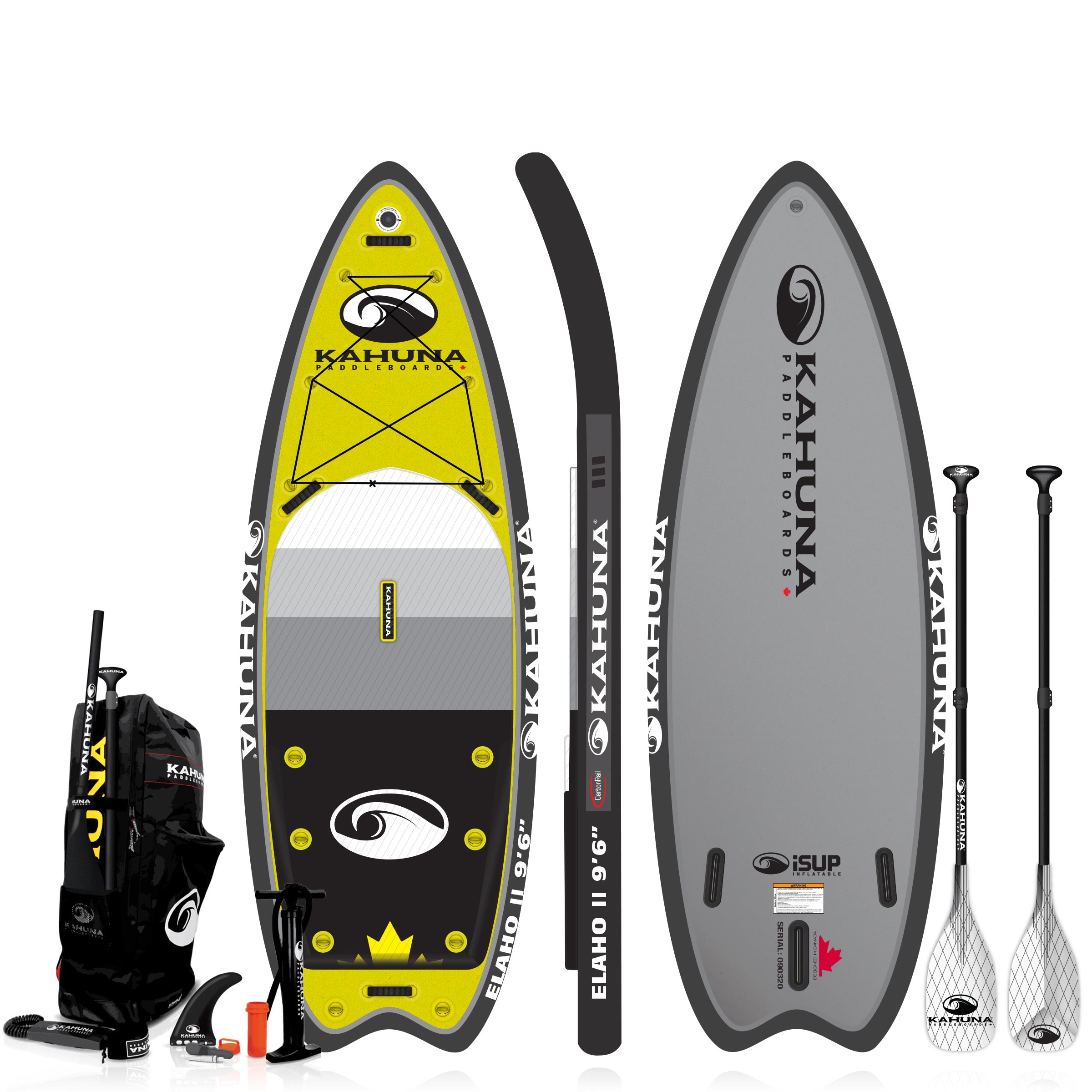 10" FIN Classic plastic centre fin
KAHUNA DECK PAD Textured deck pad for a soft and comfy grip
HIGH VELOCITY DUAL ACTION PUMP Two way hand pump that fills iSUPS quickly
ANCHOR TIE For securing an anchor or weight
REINFORCED DROP STITCH (RDS) Heat pressed linear strands make iSUPS stiffer & lighter
FIN THUMBSCREW No screwdriver needed
DECK TIE-DOWNS For securing cargo
4" CORE Enough to support the heavier paddler without giving up feel
2 PC COMPOSITE PADDLE Strong, durable and adjustable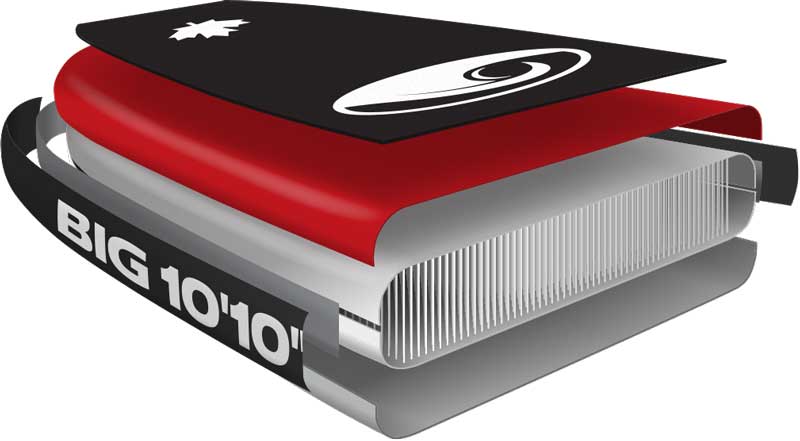 KAHUNA iSUP's are not just an inflatable paddleboard; they are a globally recognized high quality paddleboard that you can take anywhere. KAHUNA offers complete iSUP packages that are second to none. Using Reinforced Drop Stitch (RDS) technology, we heat press and glue the internal linear strands so the boards are lighter, stronger and stiffer. Included with the board is a dual action pump, coil leash, and one of the best 3-piece carbon paddles on the market today. Combine this with our very convenient wheelie bag/travel packs and you are set to travel anywhere you want to paddle. On the water, paddlers will enjoy ample deck space for extra gear, a passenger or even man's best friend. KAHUNA offers twelve different iSUP models ranging from the Keiki, for kids, to a Party Barge for six paddlers. Light, strong and extremely portable, that's a KAHUNA iSUP.